Rachin Ravindra, the name echoing through the cricketing world, has made significant strides in his cricketing career. This article delves deep into the life and journey of Rachin Ravindra, the New Zealand cricketer who has already left an indelible mark on the sport.
Early Life and Background
Birth and Family
Born on 18th November 1999 in Wellington, New Zealand, Rachin Ravindra hails from an Indian Hindu family. His father, Ravi Krishnamurthy, a software architect, had a love for cricket, having played it at the club level in his hometown of Bangalore before relocating to New Zealand.
Cricketing Roots
Rachin Ravindra's introduction to cricket began with strong family ties to the sport. His father's passion for cricket is reflected in his choice of naming his son, a fusion of the iconic names Rahul Dravid and Sachin Tendulkar, two of India's cricketing legends.
Emergence in Youth Cricket
Under-19 World Cup Appearances
Rachin Ravindra's journey in cricket gained momentum when he represented New Zealand in the Under-19 Cricket World Cup in both 2016 and 2018. His performances during these tournaments hinted at a promising future.
Rachin Ravindra Net Worth
As of 2023, Rachin Ravindra's estimated net worth falls in the range of $1 million to $5 million. It's important to note that this is an estimate and can vary over time based on various factors, including his cricketing career, endorsements, investments, and other income sources. Being a successful cricketer and a rising star in New Zealand cricket, he likely earns a substantial income from his professional cricket contracts and endorsements.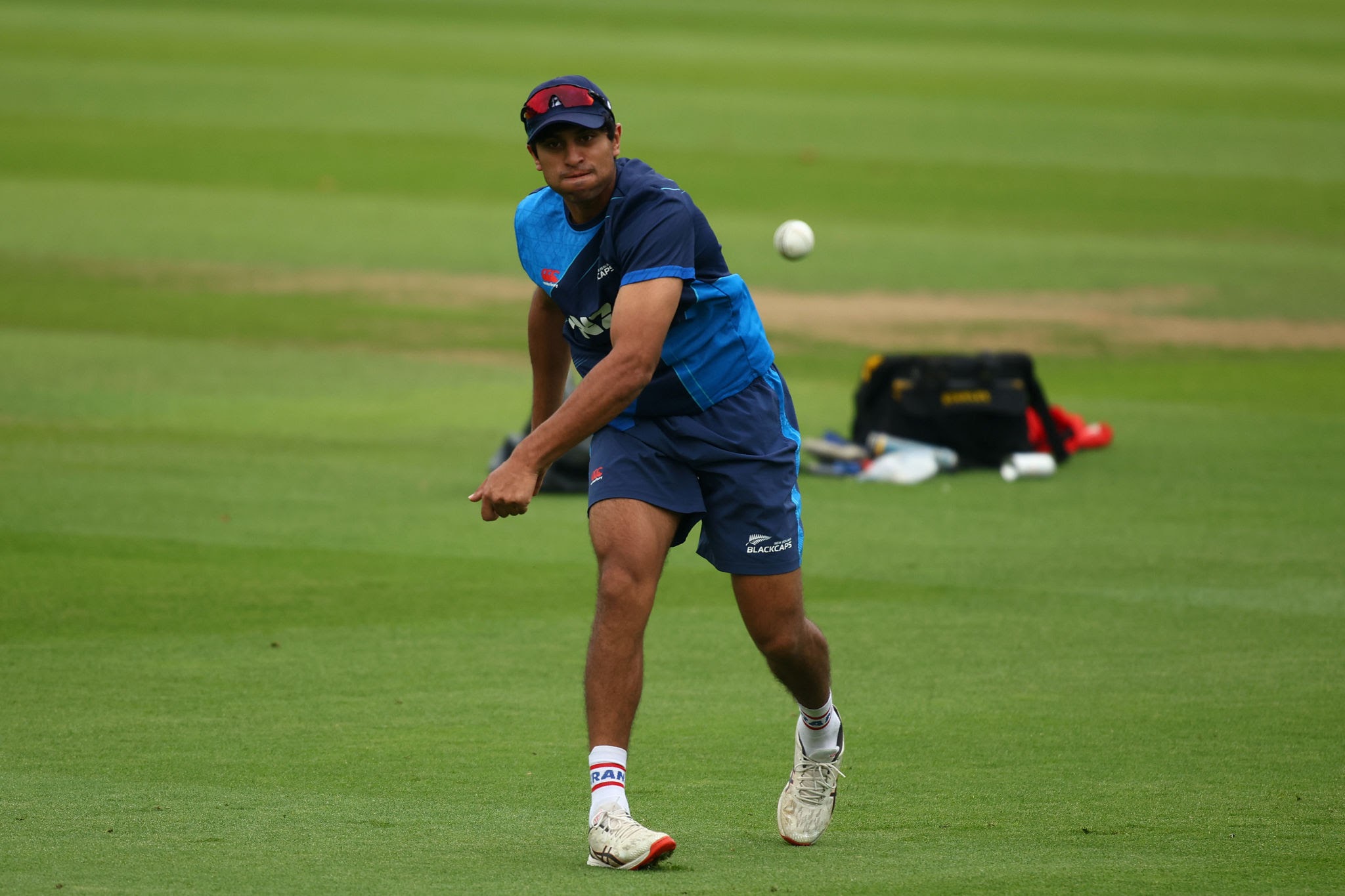 Rachin Ravindra's Family and His Relationship with Premila Morar
Rachin Ravindra's life extends beyond the cricket field, and his family plays a significant role in his journey. Additionally, his romantic life with girlfriend Premila Morar adds a personal touch to the rising cricket star's story.
Family Background
Rachin Ravindra's family has a notable connection to education and academia. He is the grandson of Dr. T.A. Balakrishna Adiga, a renowned biology faculty member known for his teaching at Vijaya College in Bangalore and BASE in Basavanagudi. This family legacy in education and teaching likely had a positive influence on Rachin's upbringing and pursuit of excellence in cricket.
Relationship with Premila Morar:
Rachin Ravindra's love life has also made headlines. He is in a committed relationship with Premila Morar, a talented fashion designer based in Auckland, New Zealand. Premila, as per her Instagram bio, is currently 22 years old, which suggests that they share a similar age bracket.
Their love story has been unfolding for over three years now, a testament to the strength of their bond. Recently, Premila celebrated this significant milestone by sharing a picture with Rachin to mark the three-year anniversary of their relationship. This gesture reflects the couple's commitment and affection for each other.
Moreover, Rachin Ravindra and Premila Morar are not only partners in their personal lives but also active on social media, particularly Instagram, where they frequently share pictures of their time together. Their online presence showcases the love and happiness they find in each other's company, and it's a joy for their fans to witness their journey together.
In summary, Rachin Ravindra's family background rooted in education and his loving relationship with Premila Morar add depth and richness to his life beyond the cricket pitch. These personal aspects offer insights into the character of the rising cricket star, showing that he values both his heritage and his connections with loved ones.
Domestic Cricket and Early International Career
List A and First-Class Debuts
In October 2018, Ravindra marked his List A debut for New Zealand A against Pakistan A, followed by his first-class debut in the same series. These milestones laid the foundation for his professional career.
First Centuries in List A and First-Class Cricket
Ravindra's batting prowess shone through when he scored his maiden century in List A cricket while playing for Wellington against Auckland in November 2019. He continued his impressive form by notching up his first-century in first-class cricket during the 2019-20 Plunket Shield season.
Consolidating His Place
Wellington Contract
In June 2020, Wellington rewarded Ravindra's talent with a contract for the 2020-21 domestic cricket season, reflecting his growing importance in New Zealand cricket.
New Zealand A Cricket Team
In November 2020, Ravindra was selected in the New Zealand A cricket team, where he made his presence felt with a splendid century in a practice match against the West Indies.
Test and T20I Debuts
Ravindra's journey reached new heights when he earned a spot in New Zealand's Test squad for their series against England in April 2021. His inclusion in the T20I and ODI squads followed, and he made his T20I debut against Bangladesh in September 2021.
A Spectacular County Stint
Signing with Durham County Cricket Club
In June 2022, Rachin Ravindra signed a deal with Durham County Cricket Club to participate in the County Championship in England.
Double Century and Remarkable Debut
Ravindra's impact in England was immediate, as he not only scored a century on debut but also achieved a remarkable milestone by converting it into a double century in a first-class match.
World Cup Debut and Heroics
Inclusion in the 2023 Cricket World Cup Squad
Rachin Ravindra's dream came true when he was included in New Zealand's squad for the 2023 Cricket World Cup, marking a significant milestone in his career.
Historic Century and Record Partnership
In the opening match of the World Cup against England, Ravindra displayed his exceptional skills by becoming the fourth Kiwi player to score a century in an ODI World Cup debut. He also achieved the fastest century by a New Zealand player in a World Cup, forming a record partnership with Devon Conway.
The Man Behind the Name
Rachin Ravindra's Unique Name
Rachin Ravindra's name is a tribute to the greats of Indian cricket, Rahul Dravid and Sachin Tendulkar. This unique fusion encapsulates his roots and aspirations in the cricketing world.
Conclusion
Rachin Ravindra's cricketing journey from Wellington to the World Cup is a testament to his dedication, talent, and the support of his family. As he continues to make waves in the cricketing arena, his story serves as an inspiration to aspiring cricketers worldwide.
Frequently Asked Questions (FAQs)
1. Who is Rachin Ravindra?
Rachin Ravindra is a New Zealand international cricketer who made his debut for the New Zealand cricket team in September 2021.
2. What is the significance of Rachin Ravindra's name?
Rachin Ravindra's name is a portmanteau of the first names of Rahul Dravid and Sachin Tendulkar, two legendary Indian cricketers.
3. When did Rachin Ravindra make his World Cup debut, and what records did he set?
Rachin Ravindra made his World Cup debut in the 2023 Cricket World Cup, where he became the fourth Kiwi player to score a century in an ODI World Cup debut. He also recorded the fastest century by any New Zealand player in a World Cup.
4. How did Rachin Ravindra perform during his stint with Durham County Cricket Club in England?
During his time with Durham, Rachin Ravindra scored a century on his debut and went on to achieve a maiden double century in a first-class match.
5. What role did Rachin Ravindra's father play in his cricketing journey?
Rachin Ravindra's father, Ravi Krishnamurthy, a cricket enthusiast and software architect, played a significant role in nurturing his son's interest in cricket and even named him after cricketing legends.